THE WORLD'S FIRST SURF-SPECIFIC TRAINING CERTIFICATION

for
Surf Enthusiasts

| for

Personal Trainers

| for

Strength & Conditioning Coaches

| for Surf Coaches | for

Physical Therapists

| for

Physiotherapists

| for

Breathing Coaches

| for

Movement Coaches

| for

Exercise Physiologists




Evidence-informed assessment and program design tools to enhance surfers' technique, stability, mobility, strength, power and stamina
THE WORLD'S FIRST SURF-SPECIFIC TRAINING CERTIFICATION

for
Surf Enthusiasts

| for

Personal Trainers

| for

Strength & Conditioning Coaches

| for

Surf Coaches

| for

Physical Therapists

| for

Physiotherapists

| for

Breathing Coaches

| for

Movement Coaches

| for

Exercise Physiologists




Evidence-informed assessment and program design tools to enhance surfers' technique, stability, mobility, strength, power and stamina
STUDY AT YOUR OWN PLACE IN YOUR OWN TIME
Certification

SFS Level 1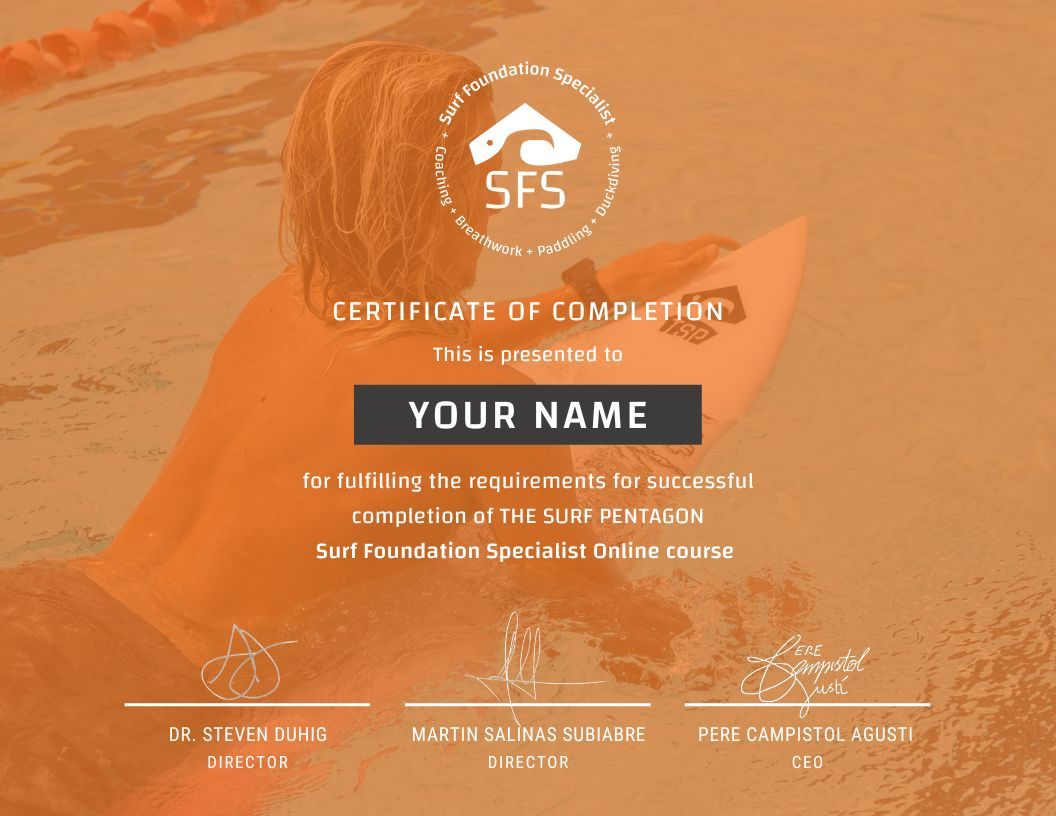 A Surf-Specific Training

Certification

powered by science and research
Become certified to avoid guesswork & help your surfers unlock their potential by
Using valid assessment protocols

|

Enhancing breathing mechanics

|

Building stronger respiratory muscles

|

I

mproving paddling technique

|

Boosting surfing endurance

|

Improving paddle stroke mechanics

|

Paddling faster

| Improving breath-hold ability

|

Boosting their surf confidence
#1 ONLINE
Flexible education experience, from wherever you are, whenever you want
#2 EVIDENCE-INFORMED
Informed by research and experience from university scholars, educators, scientists and industry professionals
#3 ACCREDITED
The SFS is accredited with the Australian Strength & Conditoning Association to provide you the maximum number of RPs an AEPDP can offer
#4 COMMITTED
Every time we register a new certified Surf Foundation Specialist we donate to SurfAid to help promote their current and future projects.
Become an SFS and

stand out

from the rest
The
SURF FOUNDATION SPECIALIST
Online certification will make you an expert at designing elite training programs to enhance all things that happen before surfers take-off on a wave using systematic and reliable assessment protocols.
With paddling and duckdiving accounting for approximately 80% of a surf session, the importance of recognising all elements that can improve performance and mitigate the risk of injury can't be ignored.
A great foundation course can't disregard the pillar of Breathing.

Learn the essentials of breathing physiology and breathing mechanics, and how breathing can provide postural support and joint centration. Learn breathing control techniques to up or down-regulate your surfers' psychological and physiological states.

Finally, learn how to design and implement safe and effective surf-specific apnea training programs.


"Before starting the SFS course I felt I had a fairly broad range of knowledge and experience in Exercise Science and from coaching a wide variety of individuals. However I wanted to be able to take the guesswork out of what I thought would be best to prescribe surfers and what experts actually prescribe under a proven / evidence based approach. Doing so has filled many gaps for me personally that I felt had previously existed."


A Course That Fills The Gaps
Introduction
Resistance Training Principles
Surf Specificity
Watch PREVIEW
Strength Program Design
Interactive practice Q&A
Interactive practice - exercises using minimal equipment
Reference
s
07
ENERGY SYSTEMS DEVELOPMENT
Introduction
Surf Foundation ESD
Energy Systems Analysis
Watch PREVIEW
ESD Program Design
References
Introduction
Stressor Types and Magnitudes
The Surfer Monitoring System
Recovery Strategies
Watch PREVIEW
References
Conclusion
SFS Exam
Feedback Form
Certificate of Completion
THE SURF FOUNDATION SPECIALIST CERTIFICATION IN YOUR WORDS
This should be the core of all surf instructors coaching

|

The SFS has added new dimensions to what I do

|

I can highly recommend the SFS to anyone that is considering it

|

The SFS has provided me specific tools to better assess and train surfers

|

The SFS has increased my personal knowledge to benefit my surfing
"THE BEST SYSTEM TO LEARN

SURF-SPECIFIC TRAINING

PRINCIPLES ONLINE"
Interact

|
Watch

|

Learn

|

Discuss

|

Read

|

Improve

Outstanding interactive features to solidify your learning

A private community page to support your learning, network and

discuss all things surfing with THE SURF PENTAGON Master Coaches and other fellow learners
DISCOVER THE SFS

MASTER COACHES
SOCIO-ENVIRONMENTAL COMMITMENT
Our goal is to connect like-minded people through surfing, giving back to the community and the environment that govern our passion. So here's our promise: Each of our courses will have an associated positive impact that gives back to the community or the environment.

Our first action was to link the SFS with SurfAid. Every time we register a new certified Surf Foundation Specialist we will donate to SurfAid to help promote their current and future projects. Having said that, you can also help us raise funds through donations to our SurfAid page.
"We believe in a step-by-step approach to improve the world we live in"
Thank you to all present and future SFS certified coaches for your support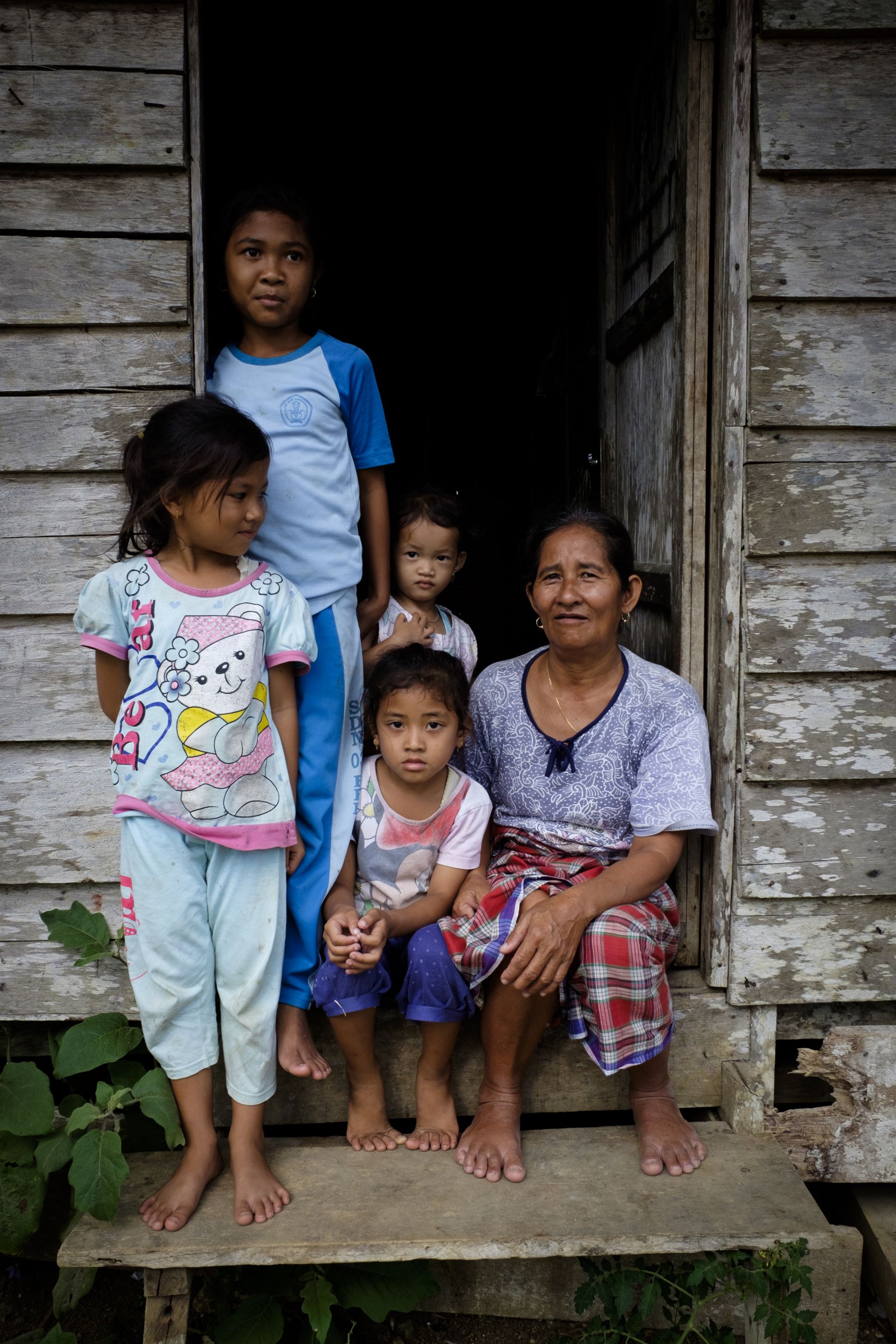 Surf Foundation Specialist FAQ's
The SFS On-line course is AUD$1300
How long can I access the course content for?
Once you've purchased the SFS Online course, you will have lifetime access to all the video and e-book content.
Why is the SFS course delivered Online?
The SFS On-line course delivery mode helps us make education accessible all around the world. The Covid pandemic has come with massive improvements in Online education. Our surf education online platform includes interactive videos and learning activities, interactive questions, downloadable PDF's and a lot more.

Read a review from one of our recently certified SFS Coaches: "The SFS course was very well presented and laid out - the way the topics were structured meant that I could very easily "hit pause" when life got in the way - and come back to my place in learning with no difficulty to resume where I had left off. I felt all of the presenters and the entire SFS Community of fellow learners' (which exists as an additional form of background support), were readily approachable if I got out of step with any course concepts to quickly help me back on track."
Are the SFS lectures live or recorded?
The SFS Online certification is pre-recorded so that you can study self-paced, from anywhere at any time.
Surf Foundation involves all non-wave riding components, including coaching, breathing, paddling and duckdiving.
What will I learn in the SFS online course?
After the completion of this course, you will understand The Surf Pentagon mission and values, and become an expert within all elements of Surf Foundation. The SFS brings foundational coaching concepts to your awareness, improving your ability to communicate, motivate, understand and coach surfers. It dives deep into the breathing pillars of; essentials (basic physiology), mechanics (respiratory muscle activation patterns and awareness), support (dynamic stability), efficiency (respiratory muscle strengthening), control (physiological and psychological regulation) and CO2 tolerance (hypercapnic exercises specific to surf situations). In this course, we will explore paddling and duckdiving in great detail, including movement phases, muscle activation patterns, mobility, stability, strength and energy systems. We will present the ADDIE System and provide a Foundational Analytic Tool Kit to assess surfers abilities and design efficient training programs for peak performance, while mitigating injury risk. Finally, the Surfer Monitoring System has been designed to track surfer's stress and recovery levels to guide the application of evidence-informed recovery strategies to elicit the best adaptations.
Can I earn CPD's or CEC's? How many?
The accreditation of the SFS with ESSA, ASCA, Fitness Australia and the NSCA is under revision and the outcome (i.e. number of CEC's or CPD's) will be announced as soon as the accreditation becomes official.
Will this course cover wave-riding?
No, this course is focused on Surf Foundation so you become an expert at improving the activities that account for more than 80% of a surf session. Surf Performance will be covered in the Surf Performance Specialist (SPS) course. However, we strongly recommend completing the SFS to solidify your foundational knowledge. Register your interest for the SPS below to stay up-to-date with the latest news.
Thank you! We are currently developing the SPS certification with The Surf Pentagon team and a talented group of TSP Master Coaches. We will get back to you with more information as soon as possible
How does the SFS compare to other options?
The SFS is a pioneering course like no other on the market. It is the first time a group of passionate surfers and exercise scientists analyse the sport and build a training system to certify professionals.
What type of work can I do with surfers after I get certified?
Using the ADDIE System, you will be able to Analyse, Design, Develop, Implement and Evaluate cutting edge surf-specific training programs to improve foundational components that account for the majority of a surf session (80%). This includes a systematic and reliable assessment protocol to design training programs for your surfers. Work with them in the swimming pool and gym to enhance all breathing components, mobility, stability, strength and energy systems. You´ll also become competent in implementing a stress monitoring system and best-practice recovery strategies.
What support is available after the course?
TSP will offer 8-week Online Mentorships for coaches who want to solidify their knowledge and refine their practice. You will get a personal experience with direct contact to TSP Master Coaches and other like-minded individuals. Register your interest to find out more.
Thanks! We are currently organising the next SFS Online Mentorship Program dates. We will get back to you with more information as soon as possible.
Do you offer any special packages for surf schools, gym-owners or organisations?
Yes! We are confident the SFS can make surf schools season and swell-independent, giving you the opportunity to grow the services you offer. If you are interested on a package for your team, please contact us at
[email protected]
How do you become a Level 2 Surf Foundation Specialist?
The SFS Level 2 certification can be achieved after completion of our live SFS Mentorships. These will be made more accessible once the current pandemic resolves.
Become a
SURF FOUNDATION SPECIALIST